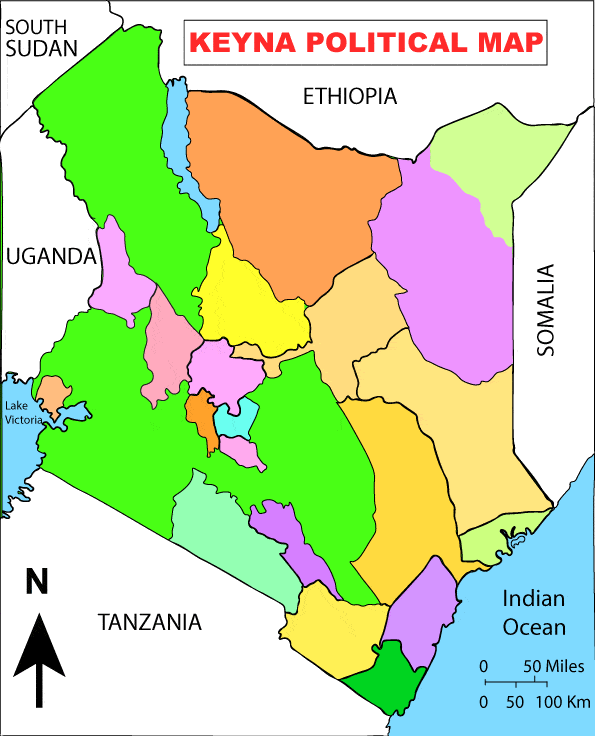 Kenya is a country in East Africa located on the eastern coast of the African continent. It is known for its diverse landscapes, including the Great Rift Valley, highlands, savannas, and coastal regions along the Indian Ocean. Some notable geographic features and locations in Kenya include:
Rift Valley: The Great Rift Valley runs through Kenya, and it is known for its stunning landscapes, including escarpments, lakes, and volcanic mountains.
Mount Kenya: Mount Kenya is the highest mountain in Kenya and the second-highest in Africa after Mount Kilimanjaro. It's a popular destination for trekkers and climbers.
Nairobi: Nairobi is the capital and largest city of Kenya, located in the southern part of the country. It's the economic, political, and cultural hub of Kenya.
Maasai Mara: This national reserve in southwestern Kenya is famous for its wildlife, including the Big Five (lion, elephant, buffalo, leopard, and rhinoceros) and the annual wildebeest migration.
Tsavo National Parks: Kenya is home to two national parks, Tsavo East and Tsavo West, known for their diverse wildlife and dramatic landscapes.
Mombasa: Mombasa is Kenya's second-largest city and its main coastal port. It's a popular tourist destination with beautiful beaches and historical sites.
Lake Victoria: Lake Victoria, one of the African Great Lakes, forms part of Kenya's western border. It is the largest tropical lake in the world and is shared with Uganda and Tanzania.
These are just a few of the notable geographic features and locations in Kenya. If you need a specific map or more detailed information about a particular area in Kenya, you can easily find maps online or through various mapping services.
Kenya is a republic with its own government, constitution, and borders. It is an independent nation with its capital in Nairobi.
Kenya is a democratic country and is divided into 47 counties for administrative purposes. Each county has its own government, and the country is governed by a president who is both the head of state and the head of government. Kenya has a multi-party political system and holds regular elections to choose its leaders.
Kenya is divided into 47 counties. These counties are administrative regions within the country of Kenya. Here is a list of the 47 counties in Kenya.
Mombasa
Kwale
Kilifi
Tana River
Lamu
Taita-Taveta
Garissa
Wajir
Mandera
Marsabit
Isiolo
Meru
Tharaka-Nithi
Embu
Kitui
Machakos
Makueni
Nyandarua
Nyeri
Kirinyaga
Murang'a
Kiambu
Turkana
West Pokot
Samburu
Trans-Nzoia
Uasin Gishu
Elgeyo-Marakwet
Nandi
Bomet
Kericho
Kakamega
Vihiga
Bungoma
Busia
Siaya
Kisumu
Homa Bay
Migori
Kisii
Nyamira
Nairobi (Nairobi City County)
Nakuru
Narok
Kajiado
Kericho
Uasin Gishu
These counties serve as administrative units for local governance and decision-making within the country of Kenya.
The Rivers of Kenya;
Kenya is home to several rivers, although the country's river systems are not as extensive as those in some other regions. Here are some of the notable rivers in Kenya:
Tana River: The Tana River is the longest river in Kenya, flowing from the slopes of Mount Kenya to the Indian Ocean. It is approximately 1,014 kilometers (631 miles) long and plays a significant role in Kenya's water supply and hydroelectric power generation.
Athi-Galana-Sabaki River: This river system, also known as the Athi River, flows from the eastern slopes of the Aberdare Range and the eastern side of the Rift Valley. It eventually empties into the Indian Ocean at Malindi. It is an important river for water supply and irrigation.
Ewaso Ng'iro River: This river flows from the central highlands of Kenya and into the arid northern regions, providing a vital water source for wildlife and communities in areas like Samburu and Isiolo.
Mara River: The Mara River flows through the Maasai Mara National Reserve and Serengeti National Park in Tanzania. It is famous for the annual wildebeest migration that takes place between these two ecosystems.
Kerio River: The Kerio River flows through the Kerio Valley in western Kenya, primarily within Elgeyo-Marakwet County. The river has eroded a deep valley, creating a picturesque landscape.
Nzoia River: The Nzoia River is in western Kenya and is a major tributary of Lake Victoria. It plays a crucial role in agriculture, as the surrounding region is fertile and conducive to farming.
Sondu River: This river flows through Nyanza Province in western Kenya, draining into Lake Victoria. It is a source of water and a significant feature in the region's landscape.
Sabwani River: The Sabwani River flows in eastern Kenya and eventually merges with the Tana River. It is essential for water supply and agriculture in the region.
Nyando River: This river also drains into Lake Victoria in western Kenya and is significant for agriculture and water supply.