Introduction: An extreme flash floods occurred throughout the Indonesian capital of Jakarta and its metropolitan area in the early hours of 1 January 2020, due to the overnight rain which dumped nearly 400 millimeters of rainwater, causing the Ciliwung and Cisadane rivers to overflow in jakarta flood 2020. At least 66 people died, and 60,000 were displaced in the worst flooding in the area since 2007.
In the past time period floods have hit Jakarta several times, including in 1621, 1654, 1918, 1942, 1976, 1996, 2002, 2007 and 2013. A significant contributing factor is that a long part of Jakarta is low-lying; some 24,000 ha (240 km2) of the main part of Jakarta are below sea level. Flooding can become severe if
heavy rain unite with high tides. When these flash floods happen, the high tides push water into low-lying areas joining with the runoff from rains in upland areas (such as Bogor) flowing down into the Jakarta area. Rapid population growth in urban areas, poor land-use planning, and the lack of understanding among city residents and government about floods and its disaster risk enhance the impact.
Impact of Jakarta Flood 2020
A large number of floodgates were assigned emergency status due to the high water levels after the rainfall. From 18:30 WIB on 1 January until 12:00 WIB on 2 January, the government temporarily relinquished all toll road fees in Jakarta. At many parts of the city, water levels reached 30 to 200 cm and other some places, such as Cipinang Melayu, East Jakarta, water levels peaked at four meters. More than 397,000 people had been evacuated to the upper land areas. The schools and government buildings were used as temporary shelters by the decision of the government. In several areas, evacuation efforts were hindered by rushing waters and blackouts.
According to Indonesia's Meteorology, Climatology, and Geophysical Agency (BMKG), heavy rain with thunderstorms and heavy winds is expected in the next three to seven days, which is likely to exacerbate the current Jakarta Flood 2020 situation.
ভয়ঙ্কর পাঁচটি tsunami সুনামির গল্প Deadliest Flood in Pakistan 2010
Transport
The maximum transportation networks were disrupted, including light rail transit, taxis, trains, toll roads, and the Halim Perdanakusuma International Airport. Soekarno-Hatta International Airport and the Jakarta. MRT continued operate their scheduled normally. Halim Perdanakusuma Airport was closed early in the morning due to the submerged runways, and air traffic was temporarily redirected to Soekarno-Hatta Airport. The airport was reopened 2 hours later.
Deaths in Jakarta Flood 2020
As of 6 January 2020, Indonesian officials reported the death toll at 66 due to landslides, hypothermia, drowning, and electrocution. Many parts of the city had been detached without power, as the power was switched off for safety reasons by the state-owned electricity firm, PLN. It was the areas of worst flooding since 2007 when the rainfall intensity was 340 millimeters (13 in) per day and 80 people were died in 10 days.
Responses
Cloud seeding planes were used in an attempt to unconnected the heavy rain. The Jakarta governor, Anies Baswedan, tweeted that the government would help all those who have been affected by the Jakarta flood. Baswedan has also told reporters that he would push new large-scale of infrastructure projects, including a dam and a sluice construction, to prevent flooding again. Baswedan has publicly stated that "I want all the officials in the Jakarta administrations to make sure that all government buildings and schools are ready to be used as evacuation shelters during this time. Prepare public kitchens, healthcare posts, medicines, sleeping mats, public toilets, emergency services and other basic needs for evacuees," at the time of the flood. Indonesian President Joko Widodo has tweeted that he will rebuild all publicinfrastructures with anti-flooding measures. Turkey's Ministry of Foreign Affairs stated that it's in full solidarity with the people of Indonesia and ready to provide any assistance that may be needed for them.
Flood canals
East Flood Canal in eastern Jakarta was a national project which began in 2003 and late 2009 reached the Java Sea and will be accomplished in 2011. It was 23.5 kilometers length in long which linking five rivers: Cipinang, Sunter, Buaran, Jati Kramat and Cakung. It will reduce flood and hope as a 2 kilometers rowing sport venue too.
To ease from flood, Jakarta Emergency Dredging Initiative (JEDI) phase-2 will make underground canal (siphon) from Ciliwung River to Cipinang River and then go through to East Flood Canal. It will lower floods at Cawang, Kampung Melayu, Bukit Duri and Kebun Baru. It is about one kilometer long and was finished in 2016.
Using participatory mapping for disaster preparedness in Jakarta
For managing risk effectively, it needs extensive data for making decisions on investments in preparedness, mitigation, and response activities. Until recently, detailed information on disaster situation like flooding was hardly available at local level. A pilot project in Jakarta, led by the Province of Jakarta's Disaster Management Agency collected high-resolution of data to inform flood preparedness and contingency. Later, the data, which was easily accessible by the community and the general public, was
used in 2011/2012 Jakarta contingency emergency planning exercise. The risk information it produced was very useful for decision makers in preparedness, development and investment planning for disaster resilient building structure. Petabencana can now be consulted and it contains a flood map. Some
additional information may be found at OpenStreetMap. It is an online and open-source platform, which relies on participatory mapping conducted by local communities, private and public actors who collect the detailed information about a given area and share it, meet the needs in flood disaster situation.
Jakarta sinking
Alongside flooding from rivers, Jakarta is also sinking about 5-10 centimeters each year and up to 20 centimeters in northern Jakarta mainland. From 2000 to 2050, the potential coastal flood event extent is estimated to increase by 110.5 km2 due to both land subsidence and sea level rise. Land subsidence occur in Jakarta is mainly caused by the overuse of groundwater. At the same time, the groundwater has lost its capacity to recharge due to the lack of watershed areas and overpopulation in the capital city. Without any groundwater regulation in place, buildings in Jakarta are drawing water from the ground at an unprecedented rate. For households and residents, especially those at the bottom of the economic pyramid, access to piped water is considered a luxury. Not only must the customer pay for the tariff, which is higher
than other Indonesian cities, the installment fees often an extra demand the poor households to connect to the tap.
In addition, residents consider piped water quality in Jakarta to be of poor quality, thus explaining why only 28 percent of Jakarta households drink piped water and groundwater compared to 95 percent in 2000. It is important to note that detached from drinking, people in Jakarta still use groundwater, and to some
extent piped water and wended water. Such hydrological behavior expands the overuse of groundwater, thus contributing to the land subsidence.
Conclusion
Flooding is likely to continue to impact Jakarta in the future as poor management of the waterways and continued subsidence remain prominent issues in this region. Although measures implemented by the government have helped in recent years, such as dredging work undertaken in the Ciliwung River, relocation of illegal housing near flood-prone areas and building of a seawall at Jakarta Bay, further mitigation measures will be required in the future as 40% of Jakarta is estimated to be below sea level.
In Indonesia, there is a large protection gap in terms of flood insurance for individual. Non-life insurance penetration rate is at 0.43% of GDP, which is lower than that of neighboring countries such Malaysia (1.32%). However, it's worth noting that most of this insurance pf this country is concentrated in Jakarta. As Jakarta continues to undergo urbanization and development, it is essential that further measures are taken to mitigate this flood risks. In an effort to solve the problem, the Netherlands will give $4 million to Indonesia for a feasibility study to build a dike on Jakarta Bay. The ring dike will be provided with total pumping system and retention area, would regulate and control seawater and would also be used as an additional toll road. The proposed project will be built by 2025. Construction of an 8 km, sea wall along the coast was officially launched on October 9, 2014.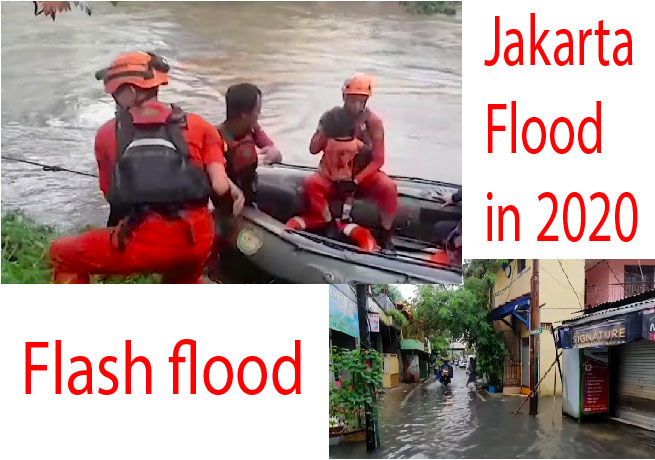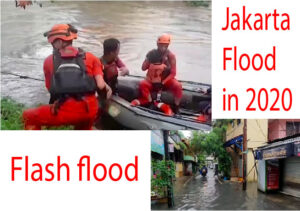 Read More: Deadliest Flood in Pakistan 2010 Where is the Safest Place to be during an Earthquake পৃথিবীর ভয়ঙ্কর তিনটি আগ্নেয়গিরি volcano