Introduction:
Mega-disaster can be defined as an unexpected natural or man-made catastrophe which have a high magnitude, high impact, infrequent disaster that affects several countries directly or indirectly. Multiple hazard zones. Places where two or more natural hazards occur, and in some cases can interact to produce serious disasters. Mega disaster causing unusually severe or unprecedented damage.
Hurricane Katrina was a large and destructive Category 5 Atlantic hurricane that caused over 1,800 fatalities and $125 billion in damage in late August 2005. The damage to homes, critical infrastructure and the environment was immense and in some respects even historic. Hurricane Katrina was by all accounts a mega-disaster: the single most expensive disasters in the United States.
Hurricane Katrina:
Hurricane Katrina (August 2005) became a large and extremely powerful hurricane that caused enormous destruction and significant loss of life. It is the costliest hurricane to ever hit the United States, surpassing the record previously held by Hurricane Andrew from 1992. In addition, Katrina is one of the five deadliest hurricanes to ever strike the United States. In all, Hurricane Katrina was responsible for 1,833 fatalities and approximately $108 billion in damage (un-adjusted 2005 dollars). Hurricane katrina at a glance:
Total fatalities: 1,833
Highest wind speed: 280 km/h
Lowest pressure: 902 mb
Date: August 23, 2005 – August 31, 2005
Location: Gulf Coast of the United States
Category: Category 5 Hurricane (SSHWS)
Affected areas: New Orleans, Louisiana, Mississippi, Alabama, MORE.
Metrological settings of hurricane katrina:
On August 23, 2005, a tropical depression formed over the Bahamas, and became Tropical Storm Katrina on August 24, 2005. The storm made landfall in Florida on August 25 as a Category 1 hurricane, then moved into the Gulf of Mexico where it intensified into a Category 5. When it made landfall in southeast Louisiana on August 29, 2005, Hurricane Katrina was classified as a Category 3, with recorded wind speeds of 140 miles per hour. The hurricane then tracked east and devastated communities in Alabama and Mississippi.
On August 27 Katrina strengthened to a category 3 hurricane, with top winds exceeding 115 miles (185 km) per hour and a circulation that covered virtually the entire Gulf of Mexico. By the following afternoon Katrina had become one of the most powerful Atlantic storms on record, with winds in excess of 170 miles (275 km) per hour. On the morning of August 29, the storm made landfall as a category 4 hurricane at Plaquemines Parish, Louisiana, approximately 45 miles (70 km) southeast of New Orleans. It continued on a course to the northeast, crossing the Mississippi Sound and making a second landfall later that morning near the mouth of the Pearl River. A storm surge more than 26 feet (8 metres) high slammed into the coastal cities of Gulfport and Biloxi, Mississippi, devastating homes and resorts along the beachfront. on the afternoon of August 29th, the storm left a wake of devastation that will never be forgotten. The loss of life and property damage was heightened by breaks in the levees that separate New Orleans from Lake Pontchartrain. At least 80% of New Orleans was under flood waters on August 31st.
Storm surges
known for its storm surge, Katrina's highest surge was found in a zone from just east of the eye near Bay St. Louis, MS east to the northern reaches of Mobile Bay. The Mobile State Docks measured the highest storm surge of 11.45 feet, while the lowest was 4.1 feet in the Santa Rosa Sound in northwest Florida.
Wind:
Katrina's maximum wind speeds at landfall near Grand Isle, LA may have been as high as 140mph. As Katrina moved further north and made a second landfall along the Mississippi/Louisiana border, the NWS Doppler Radar in Mobile (KMOB) measured winds up to 132mph between 3,000-4,000 feet above ground level in the morning.
Tornado
The outer bands of Hurricane Katrina produced numerous tornadoes throughout the southeastern US on August 28-29, especially across southern Alabama and the northwest Florida panhandle Rainfall
KMOB radar showed the greatest rainfall amounts occurred east of Katrina's eye and very close to the coast. A general 5-10 inches of rain fell with isolated amounts exceeding 12 inches.
Preparations:
Florida
Many people living in the area were unaware of when Katrina strengthened from a tropical storm to a hurricane in one day and struck southern Florida near the Miami-Dade– Broward county line. Florida Governor Jeb Bush declared a state of emergency on August 24 in advance of Katrina's landfall in Florida. Shelters were opened and schools closed in several counties in the southern part of the state.
Gulf coast:
On August 26, the state of Mississippi activated its National Guard in preparation of the storm's landfall. Additionally, the state government activated its Emergency Operations Centre the next day, and local governments began issuing evacuation orders. August 28, most infrastructure along the Gulf Coast had been shut down, including all Canadian National Railway
Greater new Orleans area:
Before the storm hit land, a mandatory evacuation was issued for the city of New Orleans, which had a population of more than 480,000 at the time. Tens of thousands of residents fled. But many stayed, particularly among the city's poorest residents and those who were elderly or lacked access to transportation.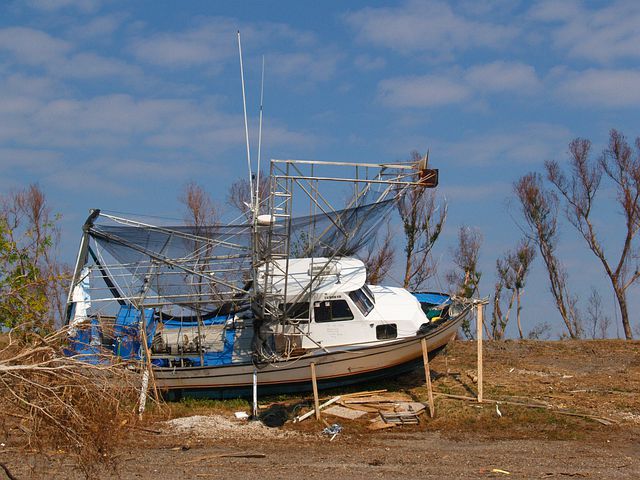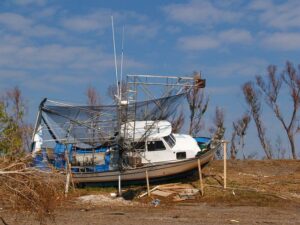 Damage and Loss:
On August 29, 2005, Katrina's storm surge caused 53 breaches to various flood protection structures in and around the greater New Orleans area, submerging 80% of the city. A June 2007 report by the American Society of Civil Engineers indicated that two-thirds of the flooding was caused by the multiple failures of the city's floodwalls.
The final death toll was at 1,836, primarily from Louisiana (1,577) and Mississippi (238). More than half of these victims were senior citizens. Keep seniors safe and sound, and help them plan for hurricane season.
705 people are reported as still missing as a result of Hurricane Katrina.
Hurricane Katrina impacted about 90,000 square miles
Hurricane Katrina caused $81 billion in property damages, but it is estimated that the total economic impact in Louisiana and Mississippi may exceed $150 billion, earning the title of costliest hurricane ever in US history.
The region affected by the storm supported roughly 1 million non-farm jobs, and still, hundreds of thousands of local residents were left unemployed by the hurricane.
On September 3, 2005, Homeland Security Secretary Michael Chertoff described the aftermath of Hurricane Katrina as "probably the worst catastrophe, or set of catastrophes," in the country's history, referring to the hurricane itself plus the flooding of New Orleans.
Aftermath:
Economic effects
The economic effects of the storm were far-reaching. As of April 2006, the Bush Administration has sought $105 billion for repairs and reconstruction in the region, and this does not account for damage to the economy caused by potential interruption of the supply, destruction of the Gulf Coast's highway infrastructure, and exports of commodities such as grain. Katrina damaged or destroyed 30 oil platforms.
Environmental effects
Katrina also had a profound impact on the environment. The storm surge caused substantial beach erosion, in some cases completely devastating coastal areas. In Dauphin Island, approximately 90 miles (150 km) to the east of the point where the hurricane made landfall, the sand that comprised the barrier island was transported across the island into the Mississippi Sound, pushing the island towards land. The storm surge and waves from Katrina also obliterated the Chandeleur Islands.
Lootings and valances:
Shortly after the hurricane moved away on August 30, some residents of New Orleans who remained in the city began looting stores, as did some Mississippi residents in their local stores and casinos. Many looters were in search of food and water that were not available to them through any other means. Reports of carjacking, murders, thefts, and rapes in New Orleans flooded the news A number of arrests were made throughout the affected area, including near the New Orleans Convention Centre. A temporary jail was constructed of chain link cages in the city train station.
Government response
The Army's immediate response to Hurricane Katrina included the activation of more than 178 canteen feeding units and 11 field kitchens which together have served more than 5.7 million hot meals, 8.3 million sandwiches, snacks & drinks.
On August 31 the first wave of evacuees arrived at the Red Cross shelter at the Houston Atmore,, some 350 miles (560 km) away from New Orleans, but tens of thousands remained in the city.
By September 1 an estimated 30,000 people were seeking shelter under the damaged roof of the Superdome, and an additional 25,000 had gathered at the convention center. Shortages of food and potable water quickly became an issue, and daily temperatures reached 90 °F (32 °C). An absence of basic sanitation combined with the omnipresent bacteria-rich floodwaters to create a public health emergency.
President George W. Bush gave a speech from the White House on August 31, 2005, in which he described relief efforts. On September 2, 2005, the President visited affected areas in Alabama, Mississippi, and Louisiana. The recovery would take years.
On the three-year anniversary of Hurricane Katrina in August 2008, near the end of President George W. Bush's second term, relief efforts were ongoing. At that time, the federal government had committed more than $126 billion to Gulf Coast rebuilding, and had appropriated $12.85 billion to repair and rebuild the New Orleans levees. The Department of Education provided $2 billion in grants to schools.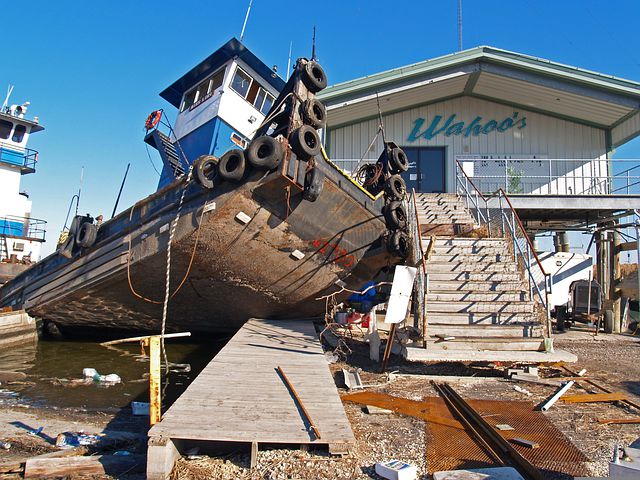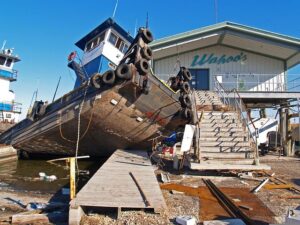 International response:
Over seventy countries pledged monetary donations or other assistance. Cuba and Venezuela (both considered as hostile to US government interest) were the first countries to offer assistance, pledging over $1 million, several mobile hospitals, water treatment plants, canned food, bottled water, heating oil, 1,100 doctors and 26.4 metric tons of medicine, though this aid was rejected by the U.S. government.
Kuwait made the largest single pledge, $500 million; other large donations were made by Qatar and the United Arab Emirates (each $100 million), South Korea ($30 million), Australia ($10 million), India, China (both $5 million), New Zealand ($2 million), Pakistan ($1.5 million), Norway ($1.8 million) and Bangladesh ($1 million).
Conclusion:
Hurricane Katrina was the most destructive natural disaster in American history, laying waste to 90,000 square miles of land, an area the size of the United Kingdom. In Mississippi, the storm surge obliterated coastal communities and left thousands destitute. New Orleans was overwhelmed by flooding. All told, more than 1,500 people died. Along the Gulf Coast, tens of thousands suffered for the lack of basic essentials for almost a week. All these catastrophe made hurricane Katrina one of the deadly mega disaster in the human history. Katrina may be the most extensively studied disaster to date and lessons are learned from this disaster about how to overcome any crisis situation.