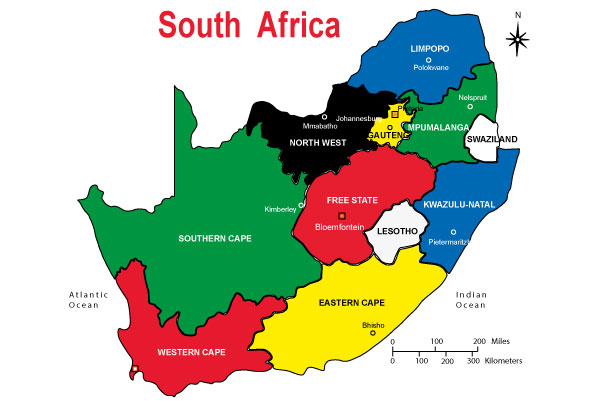 South Africa, a nation brimming with captivating landscapes, vibrant cultures, and rich history, is best explored with the aid of a comprehensive map. In this article, we will embark on an analytical journey to uncover the wonders of South Africa through the lens of its map. By delving into its diverse regions, natural wonders, and iconic landmarks, we will gain a deeper understanding of this extraordinary country.
The Regions of South Africa
South Africa is divided into nine provinces, each offering a unique tapestry of sights and experiences. Let's explore some of these regions:
1. Gauteng: The Heart of South Africa

Download (ai)
Nestled in the northeastern part of the country, Gauteng is home to the vibrant city of Johannesburg, known as the economic hub of South Africa. With its bustling streets, towering skyscrapers, and cultural diversity, Johannesburg showcases the modern face of the nation. Map of South Africa Download HD
2. Western Cape: Where Nature Meets Urban Charm 

Download (ai)
Located along the southwestern coast, the Western Cape boasts an enticing blend of natural beauty and cosmopolitan allure. Cape Town, its capital, is renowned for its iconic Table Mountain, pristine beaches, and the captivating Cape Winelands, where vineyards stretch as far as the eye can see. Map of South Africa Download HD
3. KwaZulu-Natal: A Tropical Paradise

Download (ai)
On the eastern coastline lies KwaZulu-Natal, a region blessed with warm subtropical weather and breathtaking scenery. The city of Durban beckons visitors with its golden beaches, while the iSimangaliso Wetland Park, a UNESCO World Heritage Site, showcases an abundance of wildlife and pristine ecosystems.
The Natural Wonders of South Africa
South Africa's diverse topography is a testament to its natural splendor. Let's explore some of its remarkable natural wonders:
1. Kruger National Park: A Safari Experience Like No Other
Spanning over 19,000 square kilometers, the Kruger National Park is a haven for wildlife enthusiasts. Here, visitors can witness the "Big Five" – lions, elephants, buffalos, leopards, and rhinoceroses – in their natural habitat. Embarking on a safari through the vast savannahs of Kruger is an adventure that will leave lasting memories.
2. Drakensberg Mountains: Majestic Peaks and Serene Valleys
Located in the eastern part of the country, the Drakensberg Mountains stand tall, offering breathtaking vistas and awe-inspiring hiking trails. With its jagged peaks, cascading waterfalls, and ancient rock art, this mountain range is a paradise for outdoor enthusiasts and nature lovers alike.
Iconic Landmarks of South Africa
South Africa is also renowned for its iconic landmarks that hold historical, cultural, and symbolic significance. Let's explore a few of these landmarks:
1. Robben Island: A Symbol of Resilience
Situated off the coast of Cape Town, Robben Island is a poignant reminder of South Africa's tumultuous past. It was here that Nelson Mandela, the beloved leader and Nobel laureate, was imprisoned for 18 years during the apartheid era. Today, visitors can tour the island and gain insight into the country's struggle for freedom.
2. Table Mountain: A Natural Wonder
Dominating the Cape Town skyline, Table Mountain is an iconic landmark that offers panoramic views of the city and its surroundings. Adventure seekers can hike to the summit or take a cable car ride to witness the breathtaking vistas that await at the top.
Cities and Towns in South Africa
South Africa is home to numerous cities and towns, each with its own unique character and charm. Here is a list of some prominent cities and towns that can be found on the map of South Africa:
Johannesburg – The largest city in South Africa and the economic heart of the country.
Cape Town – A coastal city known for its stunning natural beauty, including Table Mountain and beautiful beaches.
Durban – Located on the east coast, Durban is a popular tourist destination with its warm climate and sandy beaches.
Pretoria – The administrative capital of South Africa, situated in the Gauteng province.
Port Elizabeth – A major seaport city in the Eastern Cape known for its beautiful beaches and wildlife reserves.
Bloemfontein – The judicial capital of South Africa and the capital city of the Free State province.
Pietermaritzburg – The capital city of KwaZulu-Natal province, famous for its Victorian architecture and the annual Comrades Marathon.
East London – A coastal city in the Eastern Cape, known for its picturesque beaches and the Buffalo River.
Kimberley – The capital of the Northern Cape province and famous for its diamond mining history.
Nelspruit – Located in the Mpumalanga province, close to the world-famous Kruger National Park.
Polokwane – The capital city of the Limpopo province and a gateway to several nature reserves.
Stellenbosch – A historic town in the Western Cape renowned for its vineyards and wine production.
Hermanus – A coastal town known for its whale-watching opportunities and scenic beauty.
Mossel Bay – A popular seaside town along the Garden Route, offering various outdoor activities.
Franschhoek – A charming town in the Western Cape, celebrated for its wine estates and culinary delights.