Digital Map of Bangladesh of 1971 FREE PDF
I was looking for the digital map of Bangladesh for many days but I have prepared it by myself using the illustrator cc. In this HD map, you will get the map of Asia Bangladesh during the liberation war in Pakistan and Bangladesh.  This is the map of Bangladesh and India because surrounding Bangladesh west Bengal, Tripura, and Meghalaya in India are located. I have added all the transportation developed in Bangladesh in 1971.
Bangladesh had less than 64 districts then, among them, Magura, Meherpur, and Jhenida, are not districts like today (Districts of Bangladesh).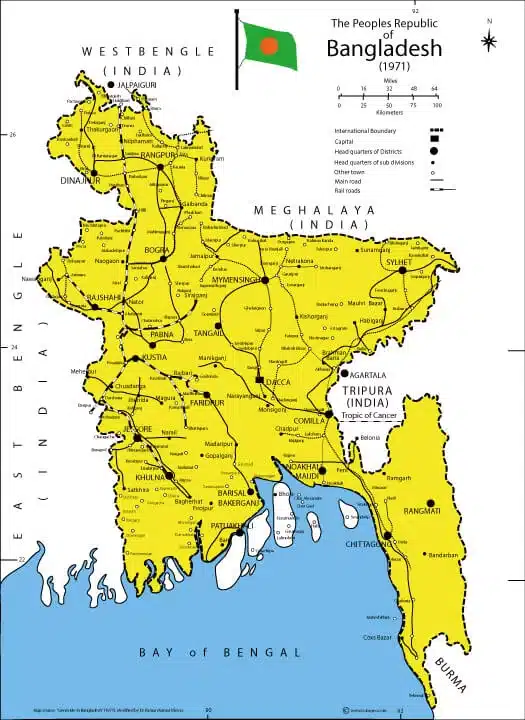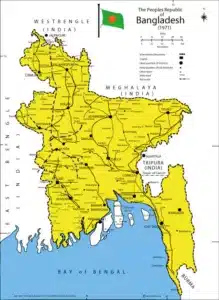 The Digital Map of Bangladesh (
transportation)
in 1971:
Download the Adobe Illustrator version (.ai)  (.svg) of Digital Map of Bangladesh.ai
This is the map of Bangladesh during the liberation war in 1971 showing the transportation route and the major districts and sub-divisions.
During the liberation war in Bangladesh, there are not 64 districts in the east Pakisthan, recent Bangladesh. The major cities are
Dacca
Chittagong
Khulna
Rajshahi
Sylhet
Barisal
Rangpur
Mymensingh
Comilla
Narayanganj
Gazipur
Narsingdi
Tongi
Cox's Bazar
Jessore
Faridpur and so on.
In 1971, the transportation system in Bangladesh was not as developed and extensive as it is today. The country was still in its early stages of development after gaining independence from Pakistan. However, here are some transportation modes that were prevalent during that time:
The road network in 1971 consisted of mainly unpaved or poorly maintained roads. Major cities and towns were connected by a limited number of highways and paved roads. The condition of rural roads was generally poor, making transportation challenging, especially during monsoon seasons.
The railway system in Bangladesh was operational in 1971, although it was limited in terms of coverage and infrastructure. The rail network connected major cities and towns, and it was primarily used for transporting goods and passengers over long distances.
Bangladesh has an extensive network of rivers, making waterways an important mode of transportation even in 1971. Rivers like the Padma (Ganges), Jamuna (Brahmaputra), and Meghna served as major transportation routes for boats and ferries, connecting different parts of the country.
The aviation industry was still in its early stages in 1971. The major airports, such as Shahjalal International Airport in Dhaka and Shah Amanat International Airport in Chittagong, existed but with limited domestic and international flight connections.
Non-motorized rickshaws were a common mode of transport in urban areas, especially in Dhaka and other cities. These manually pulled or cycle-pulled vehicles provided short-distance transportation within city limits.
It's important to note that the transportation infrastructure and modes have significantly evolved and expanded since 1971. Bangladesh has made substantial progress in developing its road networks, railways, airports, and waterways to facilitate better connectivity and transportation across the country.
---
Download more maps:
⇒ 1 Map of Ethiopia HD Free Download Commercial USE
⇒ Political Map of South Africa With 11 Major City
⇒ Map of Ghana Accra with 10 Major Cities in Africa
⇒ চাঁপাইনবাবগঞ্জ সদর উপজেলার map